Attorney Mary A. Schopper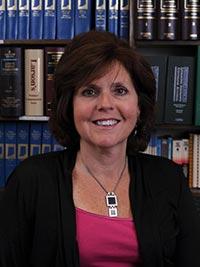 Mary A. Schopper is a partner attorney with Due Doyle Fanning & Alderfer, LLP in Indianapolis, Indiana. Mary has concentrated her practice on Indiana worker's compensation and occupational diseases defense since 1991.
Mary graduated from the Indiana University School of Law, Indianapolis, cum laude, in 1991. She received her B.A. in Political Science from Indiana University, Bloomington in 1983, where she was selected as an undergraduate teaching assistant, as well as a Congressional intern. She is admitted to practice before the Worker's Compensation Board of Indiana, the Indiana Court of Appeals and the Indiana Supreme Court.
Mary has frequently presented educational programs to legal and worker's compensation professionals regarding case law updates, implementing return to work programs, nuts and bolts claims handling, undocumented workers, affirmative defenses, medical causation issues, psychological injuries, medical co-morbidities impacting work injuries, and the statute of limitations.
Mary is active in her community, schools and church, volunteering as a Liturgical Minister, Parish and school committee chairs, Cathedral Soup Kitchen volunteer, Indiana State Bar Association "We the People" student tutor and competition judge, Salvation Army annual phonathon, , and Muscular Dystrophy Lock Up.
Mary is a member of the Indiana State and Indianapolis Bar Associations. She is an active member of the Defense Trial Counsel of Indiana Worker's Compensation Section and the Indiana Worker's Compensation Institute.

Practice Areas:
Education:
Indiana University School of Law, 1991
Indiana University Bloomington, 1983
Professional Associations and Memberships:
Liturgical Minister
Parish Committee
School Committee
Cathedral Soup Kitchen
Indiana State Bar Association "We the People"

Student Tutor and Competition Judge

Salvation Army Annual Phone-a-thon
Muscular Dystrophy Lock Up
Indiana State Bar Association
Indianapolis Bar Association
Publications:

"Modified Duty Return to Work Issues" Council on Education In Management, 1999
"Are Illegal Aliens Entitled to Benefits Under The Worker's Compensation Act of Indiana?" Indiana Lawyer, 2003
"Litigating Medical Expenses" Indiana Continuing Legal Education Forum, 2007
"Are Illegal Aliens Entitled to Benefits Under the Worker's Compensation Act of Indiana?" Indiana Trial Lawyers Association, 2008
"Medical Causation and Liability" Indiana Continuing Legal Education Forum, 2009
"The Challenges of the Aging Workforce," Lorman Education Services, 2013 Worker's Compensation Update in Indiana
"The Aging Workforce and Indiana Worker's Compensation Considerations: Can An Employer Draw A Line In The Sand To Limit Liability?" 2013 Indiana Occupational Nurses' Association conference
Honors and Awards:
BV Preeminent Rating by Martindale-Hubbell